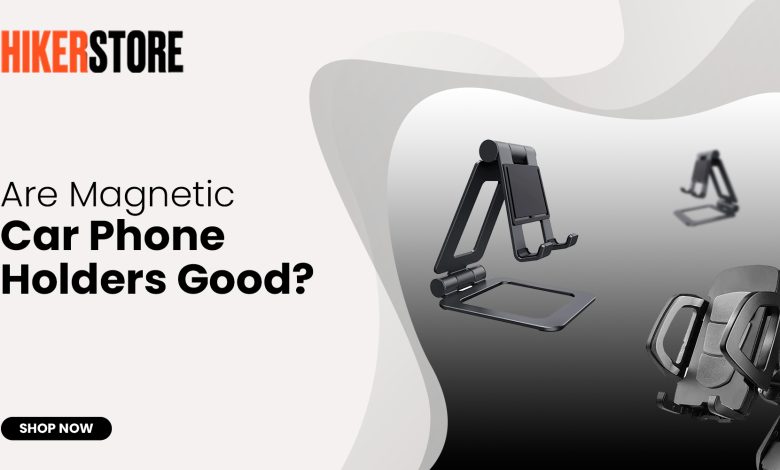 Magnets have improved our quality of life in various ways, from compasses to the amazing innovations of today, including MRI body scanners, next-generation electric cars, even maglev floating trains, and, of course, magnetic car phone holders.
The normal types of magnets used in smartphone mounts are often tiny, undetectable, and don't impact data from your device.
So Magnetic Car Phone Holders Are Safe?
Magnets won't harm your smartphone at all, it is safe to use magnetic car phone holders for your smartphone.
You should aware of the magnets found inside your smartphone, which are necessary for your device to function. 
Magnetic interference will most likely impact the phone's speaker, screen, GPS unit, built-in compass, and cell signal. But as Matt said, according to their research, "the bulk of magnets you come across on a daily basis, including many of the super-strong ones on the market, will have no harmful effect on your smartphone."
Additionally, you should not worry about data loss! Your emails, contacts, and pictures are secure around magnets. This is due to the transition from hard drives to memory storage clips in cell phones. Typically seen in smartphones, lithium-ion batteries charge as a result of a chemical reaction. However, this is typically caused by utilizing the phone mount while using the car's navigation system—we all know how much power GPS uses! Users of magnetic phone mounts report lower battery percentages.
Hiker magnetic car phone holder has a sleek design and aluminum alloy material is used for making this car phone holder. The magnetic phone holder for the car dashboard is simple to use and adheres to any flat surface flawlessly. The circular metal plate used to create the magnetic phone holder is known for its strength and longevity.
We use our cell phones to complete the majority of our daily duties. Our cell phones are quite useful for both personal and professional tasks. We constantly depend on them since they have been an essential part of our lives. From the movies, we watch before bed to the alarm that wakes us up in the morning. Even while operating a vehicle, many use their cell phones. For instance, it's typical to use a cell phone to manage any urgent updates, answer calls, or navigate a map.
Let's confront the facts, despite the fact that some could contend that using a phone while driving is possible. People don't think twice about using their cell phones while driving to take care of urgent matters. Distracted driving while talking on the phone is painful, though. Therefore, it became necessary to develop new techniques to allow us to use our phones comfortably while driving. This shows how good magnetic car holders are while driving.
Magnetic car phone holders offer the solution. These support your phone so you can focus on the road while having a clear view of the phone's screen. It can make your journey more secure and comfortable. The Magnets hold your phone strongly so it does not fall out. It provides assurance that the magnetic phone holders are just convenient and do not jeopardize your mobile phone's functionality.
The magnetic car phone holder is very reliable and secure for your phone; it not only prevents your phone from falling over while you are driving but also offers you access to your phone hands-free, which is a reliable and secure alternative to rely upon.