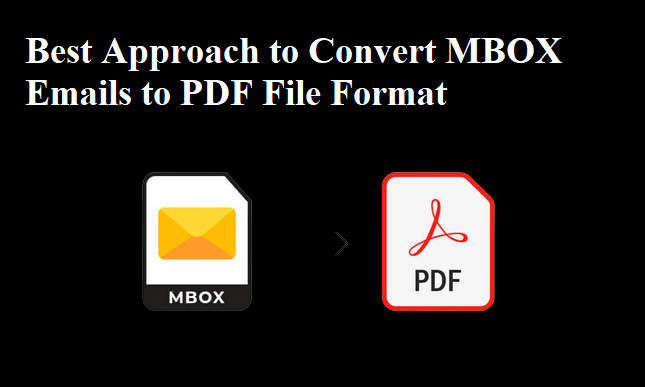 In this article, you will get to know how to Convert MBOX Emails to PDF File Format using two simple techniques. Read this article completely to find out the solutions you have been looking for.
MBOX is a standard file format for several email applications, including Thunderbird. It contains all mailbox data, including all email messages. Users, on the other hand, cannot readily open MBOX files on all platforms and are eager to convert MBOX files to PDF or another accessible format.
This technical article will teach you about all the several ways to convert MBOX files, specifically to PDF format. Users choose PDF over all other file types since it offers the most benefits. That's why they are constantly looking for new ways to convert MBOX to PDF with attachments for free. MBOX users must convert their files to PDF format for a variety of reasons.
Benefits of Converting MBOX Files to PDF
If you wish to convert MBOX emails to PDF, consider the following reasons.
Encrypting PDF files and attaching a user-defined password to them helps protect their data.
When a user wants to move PDF files to another system, the formatting and data integrity are preserved.
When compared to the MBOX format, the accessibility of PDF files boosts productivity. You can also open and view the data in PDF files on any system.
When compared to MBOX files, PDF files take up less space.
These PDF files may be reproduced easily from any device and are commonly used as legal documents and for other purposes.
These PDF files are utilized as legal papers and for official jobs and can be printed from any device.
Users must convert MBOX files to PDF for the reasons stated above. It also demonstrates the importance of saving Thunderbird emails to PDF. Now we'll look at the strategies for doing so.
How to convert MBOX emails to PDF File Format?
There are some benefits and drawbacks to manually converting Thunderbird to PDF vs using a Thunderbird to PDF converter. You can put them to good use to finish the work.
Method 1: PDF Emails from Thunderbird
Converting Thunderbird emails to PDF files in bulk using this free manual method is not advised. If you wish to convert MBOX to PDF with attachments, follow these steps.
By searching for Import/Export Tool NG in the Thunderbird Add-ons Manager, you can open and install it.
A new tab will appear, and you should select the Settings option from there. Then, either through the file or directly, install the Add-on.
Add Thunderbird ImportExportTools NG after that. Press the Add to Thunderbird button during the tool installation.
After that, press the Restart Now button.
Choose all of the Thunderbird messages you want to convert to PDF.
After that, select Save Selected Messages to save all Thunderbird messages as PDF.
If you see a warning message box, click Ok and choose where you wish to save your PDF file.
Finally, wait a while before proceeding with exporting the Thunderbird folder to PDF format.
Drawbacks of MBOX to PDF Conversion
It will not be possible to import the exported messages if you are using the PDF format.
The email process cannot be securely transferred from Thunderbird to PDF format.
Without Import/Export Tools NG, you can't export MBOX to PDF files.
MBOX file attachments cannot be saved by users. They must select a different file format for this.
Users are looking for an alternative to overcome all of the aforementioned disadvantages.
How to Convert MBOX emails to PDF Files in an Automated Way
MBOX to PDF Converter is a powerful tool that converts MBOX files into formats that are supported by more than 20 email clients. MBOX files can be converted to PDF, PST, EML, EMLX, JSON, DOC, DOCX, and a variety of other file types using this program. In addition, the software migrates MBOX files to Gmail, Yahoo, Office 365, Thunderbird, IMAP, and a variety of other web-based/cloud-based email clients. Furthermore, this application includes a number of additional options that allow users to operate according to their preferences.
Final Thoughts
We must all be aware of the PDF format, which is generally compatible with a variety of file formats and may be used for a variety of purposes. Users want to preserve Thunderbird emails as PDF documents. Anyone can easily convert MBOX files to PDF format using manual methods. Users can also select the best approach based on their preferences. Aside from that, customers can test the software's functionality by downloading the free demo version.
To Read More Such Articles: Click Here