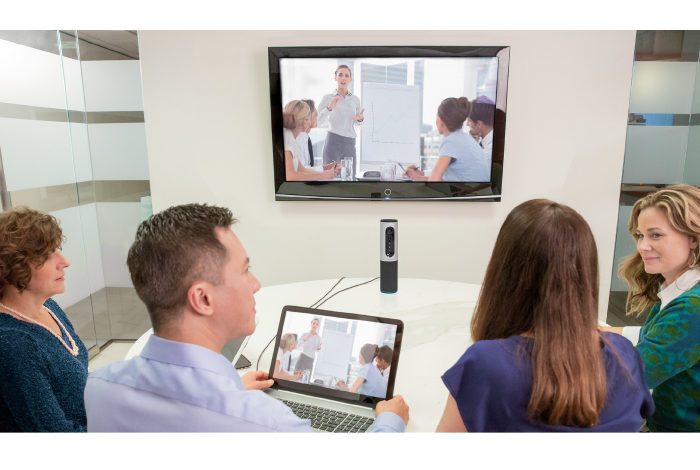 Online conferencing, sometimes also known as web conferencing, is a way by which businesses communicate nationally or globally over the internet.
        Or 
Communication or meeting to discuss brainstorming over the internet spaces is known as online conferencing.
 The main benefit of online conferencing is that it reduces expenses and saves travel time. Along with this, good presentation skills over the right virtual conferencing platform can help businesses to elevate their business efficiency. 
Online conferences can be used for- 
Hosting Training

Hosting Online Meetings

Hosting Online Presentation
For hosting or attending online conferences, you will need a virtual platform; the Virtual platform offers virtual spaces to the attendees so they can connect to others by sitting in their comfort zone, by accessing their devices. 
Using their free trial organizer can explore that platform and also can experience their services. 
Many different online platforms provide virtual space for hosting online conferences, some of these platforms also offer free trial packages for the organizers. 
Here in this blog, we will tell you about the best online platforms 
that offer a free trial. So Let's start the blog,
Mixhubb:
Mixhubb is a renowned name in virtual event hosting Platform. It is one of the best virtual event platforms that take your virtual event experience to the next level. With all the modern technological features, it ensures you a well-executed virtual event. If you are looking around for an online conference platform for hosting an online conference, then according to us Mixhubb can be your best choice.
Some of the features of Mixhubb are given below,
It is a cost-effective subscription-based virtual platform.

 Mixhubb offers the best 3D immersive experience to all the attendees of the virtual conference.

While attending an online conference on this platform, you can turn your boring virtual background into a fun-filled environment by customizing it.

 Along with virtual conferences, Mixhubb is the platform where you can host all types of virtual events and hybrid events, that too without compromising the number of attendees.

Mixhubb also gives 100% branding opportunities to the organizers.

Mixhubb is a self-manageable virtual event hosting platform, where you can manage and can have complete control over the virtual event. From the registration page to the exhibition booth, you can host an event in your style.

With Mixhubb you can host hassle-free events without any headache, as this virtual platform is easy to use and user-friendly. 
Along with the above-stated features, Mixhubb also offers some powerful features like,
Smooth Onboarding

Registration via social media login

AI Matchmaking

Network Tables

Group Chats, Video calls, Q&A, Live Polls

Multilingual Sessions

Multi-device accessibility
And, yes it offers a free trial also.
Zoom
:
Zoom is another known virtual platform that offers a free trial. With Zoom, you can connect, communicate and express your views to your attendees. With Zoom conferences, organizers can easily build relationships, collaborate, and can create an engaging environment with high-quality HD video and audio calls with up to 1,000 attendees. Zoom allows multiple video calls to attendees, and also them to share their screens simultaneously. 
Additional features include
Virtual background

Q&A sessions

Live polls

Audience engagement features

Option of Mute and unmute

Whiteboard
GoToWebinar:
GoToWebinar is another virtual platform that gives opportunities to organizers to host an event with a maximum number of 3000 attendees. Because of its Multi-device & Multi-browser accessibility, GoToWebinar can be accessed by any device & any browser.
 Additionally featured includes
Pre-recorded and live events

 Data analytics
Customizable registration page

Engagement features like Q&A, Polls 

 Whiteboard

Automated reminder for emails

Screen and File sharing
Accelevants:
Accelevents is an event platform that offers virtual and hybrid events. Accelevants provide robust features to the organizers to drive maximum attendees rate. Moreover with Accelevants you can host summits, fairs, fundraisers, workshops, seminars, and more. This virtual platform is a quick set-up that enables organizers to sell tickets, register attendees, and segment attendees according to their choice. Also, Acclevants allows you to customize your virtual conferences without any code.
Additional features include: 
Live chats 

Integrated Live Streaming 

Analytic Report 

Gamification & Strong Customer care support
Hopin:
Hopin is a virtual venue that satisfies all your virtual event needs. With this online platform, you can create an engaging environment to connect globally.
        On Hopin, attendees can anytime move in and out of the rooms just like in in-person events; this increases the high engagement rate and reduces drop-off rates. Hopin also offers organizers to host a virtual event with attendees of up to 100,000. 
              The Reception, Stage, and Expo areas provide unique interaction with speakers and exhibitors resulting in memorable experiences for attendees. Hopin is also a feature specially designed for scheduling the conference. It is a quick and easy way to plan online conferences.
BigMarker:
BigMarker is one of the known virtual conference platforms that are web-based.  For accessing this platform you don't need to download any particular software. Its scalability can rise to 1,000 attendees. 
     BigMarker can be the best platform for those organizations which want to host the event on their websites. On BigMarker, you can also share your live event on Facebook Live and YouTube Live.
 As it is a multi-browser-compatible platform, you can also join online conferences with any device like a laptop, desktop, Android, and iPhone
Notable features are 
Sharing of Screen

Live videos and pre-recorded videos

Whiteboards

Feedback or Survey form

In build live polls with real-time results

Presentation and file sharing

Recoding of the events

Live messaging

Data Analytics
BlueJeans:
It is another virtual event platform that ensures safe video conferencing. With BlueJeans, you can transform traditional boring online meetings into interactive conferences.
 It also allows organizers to customize the conference room according to the attendees and the agenda of the online meetings.
So, what are you thinking now? We have shared details of the best online conference platforms with you. Their free trial will enable you to experience their services and features.
Based on that experience, you can try your hand on any of the above-stated virtual platforms,  for your conference.